HVAC Coil Coating (RTPF)
RTPF heat exchanger coating
Blygold coatings provide a remarkable long lasting and resilient corrosion protection for RTPF (Round Tube Plate Fin) heat exchangers. They finely seal off the heat exchanger from the environment, without affecting heat transfer and pressure drop. The system can efficiently be applied in the factory as well as on-site. Our specialized elite products and unique application procedures, make Blygold the best choice to prevent air conditioning failure and unnecessary energy consumption due to corrosion.
Blygold has developed pioneering coatings specifically for HVAC corrosion protection. From the very beginning Blygold has always focused on corrosion protection for heat exchangers. Different types of corrosion such as galvanic or pitting rapidly decrease the heat exchange efficiency of coils and the efficiency of the total HVAC equipment.
In the quest for more efficient air-conditioning equipment several innovations have increased the nominal efficiency of heat exchanger coils. With the introduction of enhanced fins, increased fin density, adiabatic systems and micro channels not only the nominal efficiency has increased but also pollution and corrosion vulnerability. High pressure failures, early replacements and increased power consumption can be prevented with the right preventive and corrective measures. Protecting these heat exchangers calls for specialists. The geometry makes the application of coatings complicated and the need for heat transfer excludes standard coating systems.


Blygold PoluAl 
Our most coveted product is PoluAl XT: an aluminium pigmented polyurethane coating developed for the protection of air-cooled heat exchangers. The product meets all the necessary requirements for the coating of (RTPF) condensers and coolers. PoluAl XT stands apart from the rest. It has an excellent chemical and UV resistance. It offers flexibility, excellent adhesion with negligible effect on the heat transfer. Plus it can be applied in a very thin layer, to prevent pressure drop.
This product, in combination with our unique application techniques ensures full coverage of the heat exchanger. It ensures the best corrosion protection possible. It does so flawlessly without affecting the efficiency of the heat exchanger.
Blygold PoluAl WB 
A water based product with corrosion inhibiting ingredients and high content of aluminium pigmentation for diffusion control and heat conductivity. Improved wetting on hydrophobic surfaces makes the product very surface tolerant (compared to other water-based coatings). High corrosion and UV resistance.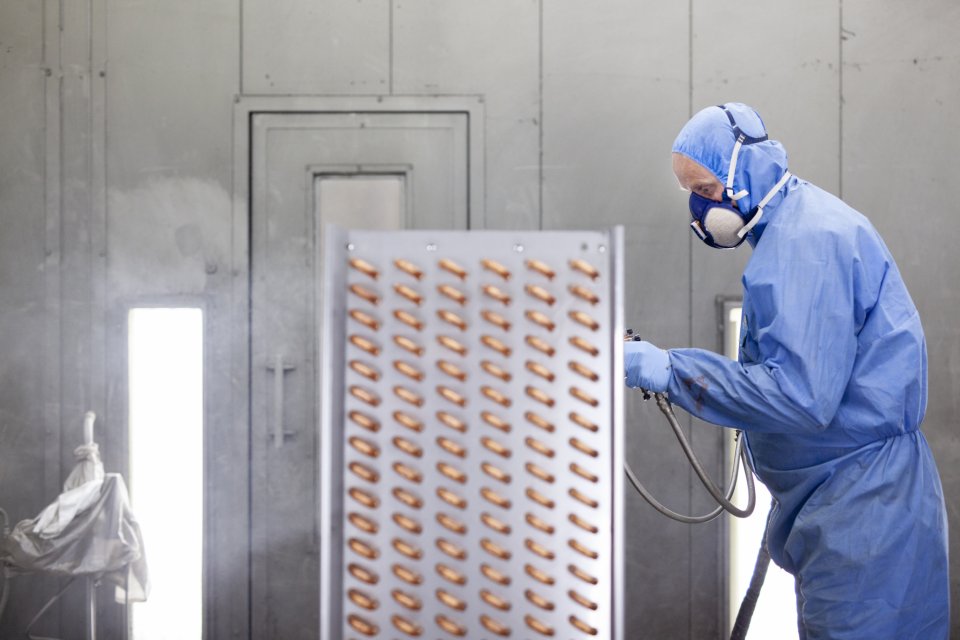 HVAC corrosion protection
Blygold has developed pioneering new coatings specifically for HVAC corrosion protection. From the very beginning Blygold has always focused on corrosion protection for heat exchangers, which are vulnerable to severe corrosion because of their construction with dissimilar metals and pollution from air circulation.
The success of these protective corrosion products derives from the unique application method including a thin layer, high UV and chemical resistance properties. These reputable products are renowned in the air conditioning business worldwide. Blygold are proud of their extraordinary success stories and our honoured to have worked on ambitious projects like the cruise ship Queen Mary 2, Palm Island Jumeirah and London Heathrow Airport.
Advantages
Prevents corrosion
Unique products and application
Triples the lifetime
Saves up to 30% on energy cost
All types of air cooled HX
11.000+ hours in salt spray test
Factory & Field application
Solvent Free, Waterbased
Without Blygold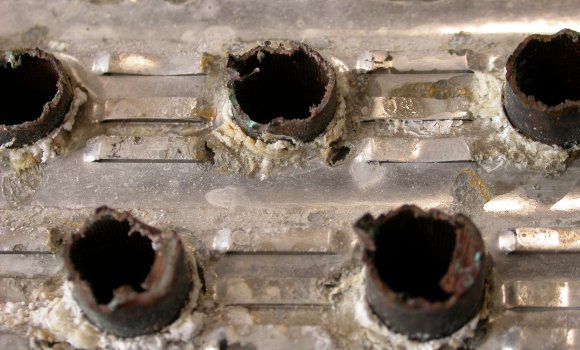 With Blygold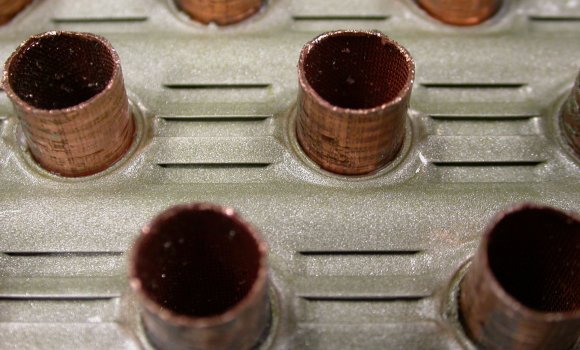 Products
All Blygold products are uniquely tailor-made to cater for the individual needs of the client. Blygold prides itself on producing energy-efficient and cost-effective products for the current corrosion protection market today. We offer a range of Solvent Based or VOC free, waterbased products.